LET THEM FUCK
12" Scuss Records 1996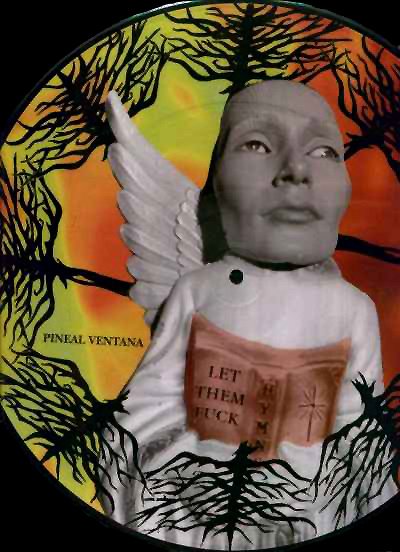 Back to Discography
Song Listing:
Let Them Fuck 4:56
Vacant Twat 3:41
The Screen 20:13
Other Info:
Recorded and Mixed by Steve Askew and Warren Albea at Microgroove Studio
Chris Swartz: Quadrasynth on The Screen
Reviews:
PINEAL VENTANA - Let Them Fuck EP (12" Vinyl Picture Disc EP, Scuss Media, Experimental rock)
URL for review http://babysue.com/music-oct-revs.html#Pineal
One of Atlanta's most uncommercial rock bands, Pineal Ventana seems destined for success. Instead of playing safe, this band takes a lot of chances with their music. Interestingly, this has worked for them both artistically and commercially (they just got signed to Ichiban Records). This picture disc features beautiful artwork and is limited to 500 copies. Three tunes: "Let Them Fuck," "Vacant Twat," and the real mind-bender..."The Screen." If you want one, you'd better get it now 'cause these won't last. Contact: Scuss Media, P.O. Box 55138, Atlanta, GA 30308-0183 or call 404-876-0736.
Rating = 5 Heads which equals GODDAMN!!!
Pictures From The 12":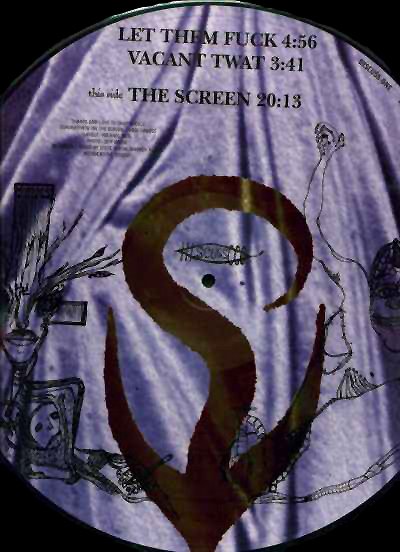 ---
Site design by James Carr 1998. All other material is fully copyrighted.