Our Heat (Your Moisture)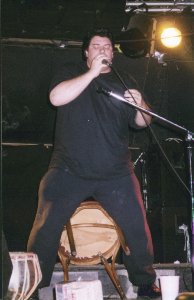 Our Heat (Your Moisture) is a compilation CD released by Scuss Media. The CD comes in a special screen printed, hand assembled package. It is available at record stores around town. The CD will feature original material by:

| BOB | TWEEZER | HEINOUS BIENFANG | PINEAL VENTANA | PEPPERMINT SYNAPSE | CHARLIE PARKER | WILLIAM CARLOS WILLIAMS | BROKEN SYMMETRY | LIAR'S CLUB | ROUTERWHELM (FEATURING MITCH & CLARA OF PV) | THIN WHITE DUKES | MARY BAKED EDDIE, ETA CARINAE | MELTED MEN | MEDAGLIA D'ORO | GLENN LIZZY | GOD IS MY CO-PILOT | ANOTHER DEAD SHARON | SURAN SONG IN STAG | MORSEL | GO FI | TURKISH DELIGHT | REMORA | WHO KILLED TEACHER? | MUDFLAP GIRLS FROM VENUS | DAN ACAROID RESIN FACTORY |

The release party held April 11th featured performances by 13 bands from the CD on two stages at The Somber Reptile. Those that performed were: P.V., Charlie Parker, Suran Song in Stag, Bob, Heinous Bienfang, Melted Men, Liars Club, Mary Baked Eddie, Eta Corinea, Broken Symmetry, Go Fi, Remora, and Routerwhelm.

WANNA SEE PICS FROM THE SHOW?
---
Site design by James Carr 1998. All other material is fully copyrighted.